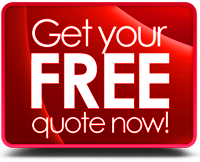 Cabo Whale Watching | Private Whale Watching in Cabo San Lucas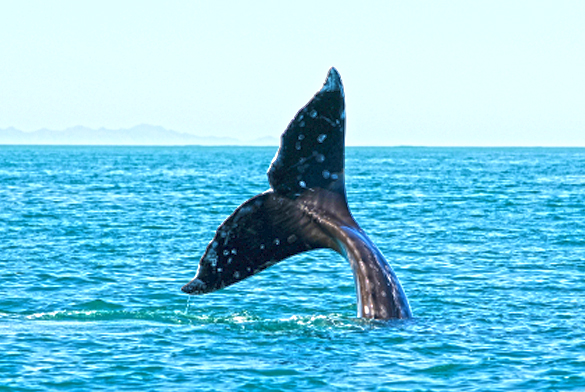 If you're planning your vacation to Cabo San Lucas between December and April, then taking a little time out to go on a whale watching trip is a necessity. During migration season, some of the most majestic creatures of the sea pass by Cabo in a display that is both moving and unforgettable.
While the coasts of Cabo San Lucas are filled with glorious sea life, one of the most remarkable things about this vibrant area is the whale migration. Every year, hundreds of whales pass through. The most common sightings in this area are the humpbacks and California greys.
This area in Mexico is known for its lovely lagoons, which become resting areas for whales. This means, even after they've migrated, they can be seen for five months of the year. However, seeing the whales migrate shouldn't be overlooked. Whale watching in Cabo San Lucas during migration is a truly glorious occurrence that many will only get to experience once.
During whale watching season, sizeable boats are taken out to actual follow the whales as they migrate. Many of these boats can get quite close to the whales, so visitors can get a good look at the magnificent creatures. With dozens of experienced and professional boat captains and guides, getting up close and personal with the whales is almost guaranteed. Seeing large pods of humpback whales make their way through the waters of the Pacific is glorious, but here, the California gray tends to get the most attention.
California gray whales are still recovering from nearly being extinct, though they now number in the tens of thousands. They used to be hunted off the coast of Cabo San Lucas before they were put on the list of protected species. Now, these beautiful and graceful whales can be watched as they head into their warmer winter home.
California Grays are very friendly. It is very common to see them swim right up to the boats and spend time interacting with humans. Many visitors are thrilled to leave with pictures of them petting, embracing, and even kissing the whales. But, the true draw to visit the Grays is that this is where they give birth to their babies. These whales prefer to give birth in the shallow lagoons off Cabo San Lucas because it is where they are naturally protected. In the shallower waters, larger predators can't bother them. And the mama whales aren't at all shy about showing off their babies! The 'little' guys are just as affectionate and curious as the adults and will be just as likely to come in for a little attention.
There are three extremely popular places to go whale watching in the Baja region. Each has its own special feel and reasons to visit. Check out the descriptions below to get an idea of which Cabo whale watching excursion will be the perfect option for you!

Laguna Guerrero Negro
This is the most popular of the three areas and, due to its popularity, is also home to several eateries and accommodations. It is the perfect place for those who want to have other activity options, for when they're not out looking at whales. While it might get a bit crowded, it is also the home to the Whale Festival, which is a perfect excuse to go visit.
Bahia Magdalena
This lagoon is the furthest one south, but is worth the travel time for its uniqueness. Composed of several little canals and bays, this area has a very special landscape and is great for exploring. Whales do visit this area to give birth, as well, so there will still be plenty to see, but it is a bit more isolated. There is a quaint town nearby, Puerto Lopez Mateos, which is built around whale watching. There are places to stay there and plenty to see.
Laguna San Ignacio
Less than a hundred miles south of Laguna Guerrero Negro, this is the perfect option for those who are solely visiting for whale watching. Completely isolated, this is popular for being where the most affectionate whales reside. The closest town is about an hour away, but also has plenty to see, do, and places to stay.
All these lagoons have their own special character and, if you're staying around for a while, it's recommended you visit more than one. Not only will you be amazed by the difference in landscape and atmosphere, but even the whales have slightly different characters. Most locals advise visitors to plan to stay for a minimum of four days to get the full whale watching experience. But, even just a day or two whale watching can change your entire outlook on life.
If you're interested in arranging a Los Cabos whale watching tour or chartering one of our luxury yachts for your adventure, please contact us. We'll make sure you have an unforgettable experience!
What is Whale Watching?
Whale watching is the practice of observing whales and other cetaceans in their natural habitat. It is a popular activity in many parts of the world, including Cabo, Mexico.
Types of Whales in Cabo Cabo is home to a variety of whale species, including humpback whales, blue whales, gray whales, and sperm whales.
Whale Watching Tours Whale watching tours are available in Cabo, offering visitors the chance to observe whales in their natural habitat. These tours typically include a knowledgeable guide, who can provide information about the whales and their behavior.
Benefits of Whale Watching Whale watching can be a rewarding experience, providing visitors with the opportunity to observe these majestic creatures in their natural habitat. It can also help to raise awareness of the importance of protecting whales and their habitats.
Cabo Whale Watching | Private Whale Watching in Cabo San Lucas
Contact us for our specials. Weekly charters are also available.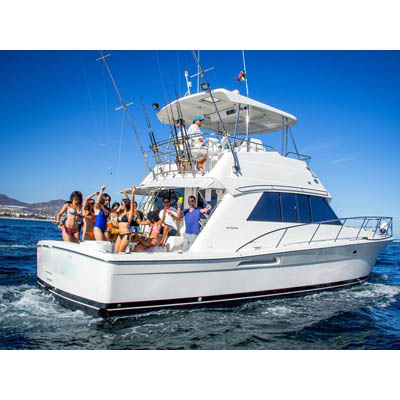 47' Riviera Yacht
This yacht is a perfect combination of style and luxury. It has a spacious saloon with all the required equipment and comfortable furniture inside. It has spacious cabinets and stylish fittings, tables and furniture in the kitchen, cabins and headroom. All these features make 47' Riviera a perfect yacht for various different purposes.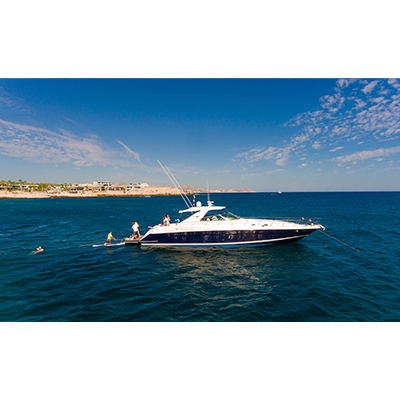 65' Sea Ray Yacht
The luxurious 65' Sea Ray Yacht, is a modern masterpiece. It is equipped with state-of-the-art amenities and is sure to please any guest lucky enough to spend time aboard. From its sleek design and impressive speed to its incredible crew, this yacht is perfect for any occasion. Whether you're looking for a fun-filled bachelor or bachelorette party or a romantic sunset cruise, the Happy Ending has it all. Onboard, you'll find a chef who will prepare an array of delectable dishes sure to delight. Experience the luxury of the Happy Ending and make your next vacation unforgettable..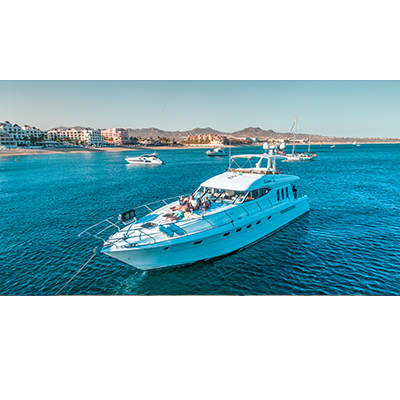 70' Viking Princess
Experience luxurious living on the 70 Ft Viking Princess Yacht. This 3-bedroom yacht features a King, Queen, and Twin bed, making it perfect for a family multi-day trip. Enjoy breathtaking views of Baja California Sur as you cruise in style with the second deck, bow for sunbathing, and all the amenities you could need for a memorable day. Treat your guests to a gourmet meal prepared on board and make your Cabo San Lucas yacht charter truly remarkable.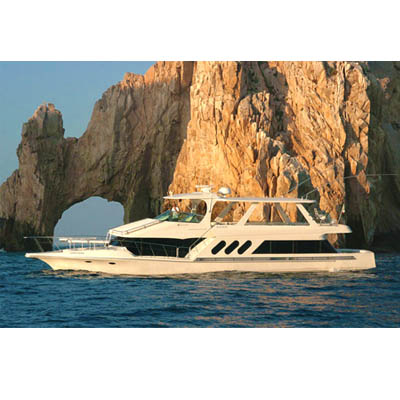 72' Blue Water Yacht
This 72' Blue Water Yacht offers the perfect blend of performance and luxury. The main salon is elegantly decorated with warm wood paneling, light carpeting, dark countertops, and beige windows. It offers an impressive 3 stateroom layout, gallery, and spacious cockpit for relaxing and entertainment. All the rooms are well-equipped and elegantly designed, including a shower, washrooms, and kitchen. It also offers optional features such as a TV, sound system, and internet, so that you can enjoy your stay even more.